<! -- NEWS HEADLINES HERE NEWS HEADLINES HERE NEWS HEADLINES HERE -->

Most get their news at social media |
NKY News | NKY Life
---
<! ---- start block -----------> <! ---- start block ----------->


I-75 northbound in Cincy reopens after semi flips
At roughly 6 am, I-75 just north of the Brent Spence Bridge was closed because of a jack-knifed semi. It has since reopened. Traffic was diverted to Fort Washington Way/I-71.


---
---


It's going to keep raining until
Wednesday morning
Keep that umbrella handy for the next 24 hours or so, Northern Kentucky.

Tuesday: Showers, mainly before 2pm. High near 59. East wind 7 to 9 mph. Chance of precipitation is 90%. New precipitation amounts between a tenth and quarter of an inch possible.

Tuesday Night: Showers likely, mainly between 8pm and 2am. Cloudy, with a low around 50. North wind around 6 mph. Chance of precipitation is 60%. New precipitation amounts of less than a tenth of an inch possible.

Wednesday:A slight chance of showers before 10am. Mostly cloudy, with a high near 61. North wind around 8 mph. Chance of precipitation is 20%.

Wednesday Night: Partly cloudy, with a low around 40. North wind 5 to 7 mph.


---
---
<! ---- start block ----------->


Recognize anyone?
The newest listing of guilty pleas in Kenton County.


---
<! ---- end block ----------->
---
<! ---- start block ----------->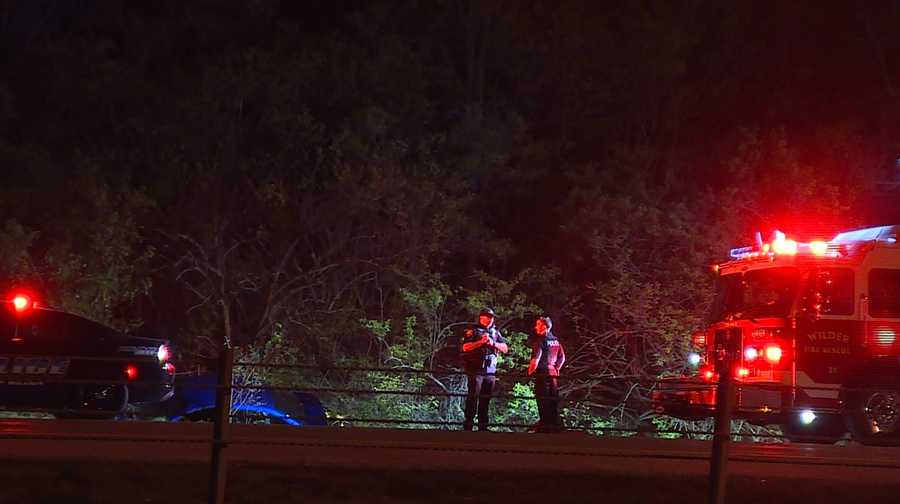 Wilder Police continue investigating
fatal crash on I-275
Wilder Police continue investigating fatal crash on I-275.

Using information supplied by the police, media reports say agencies were called to the eastbound lanes of I-275 near the AA Highway exit just after 8:00 p.m. and found two vehicle that has been involved in a crash, with one car off the road and into some woods.

A male driver from Florence was pronounced dead at the scene. A woman was taken by ambulance to a local hospital.




<! ---- end block ----------->
---
---


How Pokemon Go helped save a man with dementia in Covington
Allison Hines was at Kenney Shields Park in Covington, Kentucky, Friday morning to play Pokemon Go.

The park is a Pokestop -- a real-life location with in-game supplies for the video game. According to the television station, Hines was playing the game when she saw 83-year-old Homer Howard.

On her Facebook page, Hines said, "The weirdest things happen to me sometimes. But today my silly little game helped someone and I was EXACTLY where I was supposed to be. "

Howard told her he was surprised he was not in Ohio. When Hines told him he was in Kentucky, she realized something was amiss. Howard had been reported missing 24 hours before by his two daughters. He is from Mainefield, which is about 30 miles from Covington.


---
---


Kenton County still oversees the airport in Boone County
Thank you, Kenton County, for building your airport in Boone County, the Kenton County Airport Board still oversees CVG.

Two things have made Boone County what it is today. One, it eventually had three interstates that made it a regional commercial hub.

The other was Kenton County's decision to create an airport in Boone County, taking air travel and shipping away from Cincinnati's Lunken Airport.

Back in the 1940s, Kenton County agreed to buy nearly 900 acres in Boone County, as long as it could own and run the airport.

Congressman Brent Spence and Sen. Alben Barkley lobbied for federal funds, and two months after the attack on Pearl Harbor, FDR approved money for site development.

Ultimately, Northern Kentucky got $2 million to build four 5,500-feet runways and an administration building.

In the days before I-275, State Highway Commissioner Lyter Donaldson arranged for public money to build an east-west highway to the airport, named Donaldson Road.

By the time the Army Air Corps started using the facility and the first B-17 landed on Aug. 15, 1944, the war was winding down. A year later, the Air Corps declared it surplus property and turned it over to local government.

Kenton County took control of the site and Northern Kentucky now had a $4 million airport.

On Oct. 27, 1946, it opened a small wooden administration building, and less than three months later, with a three-story terminal nearly finished, American Airlines, Delta and TWA abandoned Lunken and moved to Greater Cincinnati Airport.

Its airport code name would be CVG, the initials of Kenton County's largest city, Covington.

To remind people that the airport in Boone County was a Kenton County-run enterprise, a sign was placed over the front entrance to the terminal that said "Welcome to Kenton County, Ky".

Today, the Kenton County Airport Board still runs what is now called the Cincinnati/Northern Kentucky Airport. Source: Scripps Media



---
---


Photos from Sunday's 'Running of the Goats' in Covington
The animals were welcomed back to Covington on Sunday where they will spend the next few months eating weeds in Goebel Park. Buildwithyard photos.




---
---


Kentucky has 2nd highest number of pregnant smokers
New information from the Centers for Disease Control and Prevention brings some not-so-good news about the number of women smoking while pregnant.

WAVE 3 News reports, according to a study, one out of 14 women who gave birth in 2016 smoked cigarettes while pregnant,

The prevalence of smoking during pregnancy varies by state. Thirty-one states ranked higher than the national rate. West Virginia topped the list at 25.1 percent, followed by Kentucky at 18.4 percent. Indiana came in at 13.5%.

California had the lowest rate at 1.6 percent. Women ages 20-24 were most likely to smoke during pregnancy.








<! --do not removed -->



<! -- WEATHER JOBS HELP WANTED TRAFFIC COLUMN --> <! -- WEATHER JOBS HELP WANTED TRAFFIC COLUMN -->
Weather >
Traffic by Waze >
Help Wanted >

Our NKY communities on Facebook:

Boone County News 18,832+

Campbell County News 9,232+

Covington News 11,381+

Grant County Buzz 3,904+

Kenton County News 11,897+



Latonia News 8,885+

Northern Kentucky Life 9,890+

Old NKY Photos 14,363+

Cincinnati News 18,788+

NKY Directory 9,055+





---
Old Northern Kentucky >
<! -- PROMOTIONS PROMOTIONS PROMOTIONS --> <! -- PROMOTIONS PROMOTIONS PROMOTIONS -->